The very lovely and talented Katy at The Singing Runner has passed on "The Stylish Blogger" award to me. When I read it on her blog it absolutely made my day! I love her blog and look forward to reading it, so I definitely recommend that you check it out.
The Award's Rules:
Thank the person who gave you the award.
Tell 7 facts about yourself.
Give the award to 7 bloggers you just love.
Leave the 7 bloggers a comment telling them they won.
As I did for a similar previous post, I am going to add pictures using Google search to put a different spin on things. Here are links (1 and 2) to a few other random facts about myself. I have to admit that I had a really hard time coming up with 7 facts that I have not already listed. Now, here are 7 facts about myself:
My parents first child, Laura, was born 3 months premature and lived for only weeks (December 7-21, 1980). Laura weighed only 2 lbs and 13 oz. I was born two months premature weighing in at 3 lbs and 13 oz. My younger sister was born on her due date and weighed 10 lbs 4oz. Having been premature, I was always the smallest one in my family which annoyed me since I was the oldest who got the hand-me-down clothes. My parents were told that I would most likely have a learning disability, yet I have always excelled at school. I like to joke that I should have been born a genius. I have donated and will continue to donate to March of Dimes to help their research to avoid premature births. [image source]
I studied Vietnamese martial arts (Vovinam) for two years. I enjoyed it, but quit because I was too much of a wuss to do all those flips. I hit my head once and had a mild concussion. I am not in that picture. [image source]
This is also not the actual picture of my car (all of those are saved somewhere), but it reminded me of it. Luckily I only ended up with a dented trunk. Stupid hurricane Charley. But of the 29 years that I have lived in Florida, that was the first hurricane to really affect me. [image source]
I am a firm believer that toilet paper should come from the top of the roll. I am also convinced that Chris will intentionally put the toilet paper roll on upside down just to laugh when I "fix" it. [image source]
I also believe with all my heart in pinky promises (aka pinky swears). Poor Chris has already made countless pinky promises, which I do not remember most of them, but I would hold him to them if I did! The only think more sacred is the newly named "ring finger promise" which I jokingly made-up when we got engaged. [image source]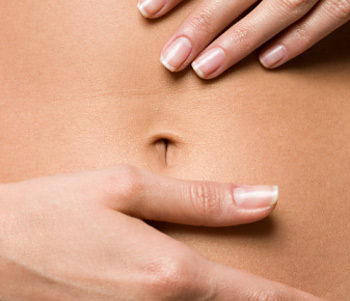 Belly buttons freak me out. I cannot let anyone touch mine. I do not even like to touch it. It baffles me how I was able to get mine pierced years ago (and yes, it is still pierced). Chris laughs at me over this. The thought of my belly button popping out one day when I'm pregnant terrifies me! I think this all started when I was little and my sister was born. I distinctly remember the remnants of the umbilical cord turning black and falling off. I am cringing as I type this. [image source]
When I was little and had the chicken pox, I had very few chicken pox. One left a scar near my right eye. My mom thought I would get them again, because I had so few. I was around them plenty of times but never got them again. [image source]